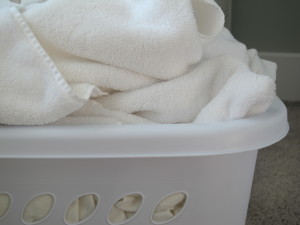 Laundering just sounds nicer than Laundry, doesn't it?
What mommy-blog would be complete without a post of "how we do laundry"? Yes, it is a mundane subject. But laundry is one of the hidden gears in the machinery of life that must turn smoothly for the more important gears to turn. Besides, I don't want all of my posts to be about homeschooling.
Laundry is not hard to figure out when there are only three or four to wash for. But sometime in the last year, I suddenly realized what people meant when they described laundry as a mountain. It was time to audit the system so I could stay on top of things. Previously, my simple system comprised of bringing the hampers down twice a week, moving all the laundry through washer and dryer, piling it all unfolded and unsorted into huge baskets, then lugging them upstairs to sort on my bed, then delivering the baskets to respective rooms, and lastly, putting it all away. It worked for awhile, but laundry never got done all in one day.
After doing some thinking and researching online, this is what I came up with:
First I got a set of new smaller laundry baskets like this. They don't hold quite as much but they work better for our new system and are much easier to carry up the stairs, especially for the children. Since we live in an old house, they also save us from bashing our knuckles in the narrow stairway.
The important point that I found laundry veterans making again and again was not to wash everybody's laundry together. It adds an extra step of sorting and things can go missing for months if put in the wrong pile. I now wash each bedroom's laundry separately. It also was a good time to get the boys to begin doing their own laundry on their own day. That means I am only washing for four people. The Man's and mine on one day, the two littles on another.
The dried laundry gets unloaded into separate baskets for each person, which is easy, since only two people's wash is done at one time. Everyone, except our 2yo, is responsible to carry their basket up and put their own clothes away.
I do not require the children to fold their laundry (although they sometimes do). I am just happy that it gets put away. Finished is better than perfect. I do not buy clothes that need ironing.
I bought a simple over-the-door hanger for the laundry room door where I immediately hang hang-ups out of the dryer to minimize wrinkles.
All hand-wash items go in a delicates bag which goes right into the washer. I do not hand-wash anything. I have a few S-hooks hanging from our wire shelving which are perfect for drip-drying smaller items over the laundry tub. Larger items dry right on the hanger on the door.
Linens get washed whenever they need to. I do not have them on a schedule.
I use a clothesline in the summer mainly for sheets and blankets. Much less time-consuming than clothing.
And that's about it. I am blessed to have my laundry room on the main floor, just steps away from the kitchen. When we first moved here, I dreamed about moving the laundry room upstairs by the bedrooms. But with time I realized that having the laundry near me during the day really helped me stay on top of it. No out-of-sight-out-of-mind problems. I love that it has a south-facing window, and a small laundry tub. We have our electric dryer vented into the house in the winter, adding warmth and humidity. The laundry room is not fancy by any means. My washer and dryer are huge and old and tough, and they share the room with utility storage and toys. But it is sunny and smells good, so I enjoy going in there. *Update* I've gotten a new washer and dryer since this post was written!
I came across a genius sock idea that I have yet to implement. You purchase as few kinds of socks as possible for the family: a bunch of men's black socks, a bunch of white ones, a bunch of black child-size ones, etc, etc. Then they are stored in stacking bins or drawers in the laundry room. Socks are put away right from the dryer; they do not go into laundry baskets or bedrooms at all. This reduces matching work as well as sock loss! When people need socks, they come to the laundry room to get them.
And here is one more important point.
What laundry tips do you have to share?