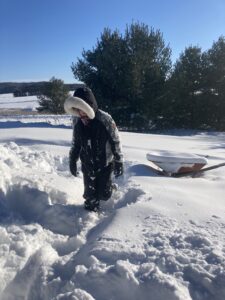 A little late, but what can I say. We moved!
Now 21, Dusty has graduated flight school and is working as a flight instructor at the local airport here near home. He will be racking up flight hours until he has enough to be hired as a commercial pilot.
I'm only going to list out what our next oldest, Duncan, is using for his first year of high school. The younger two are basically following in their older siblings' footsteps and you can see what was used for the different grades if you search the archives (Pearl is in 6th grade and Jack in 3rd). It is a very comfortable, secure feeling to find your groove. Maybe not as exciting, but nice when you're feeling weary or distracted, to just repeat what has worked in the past. And also cheaper! Even most of these are repeats from Dusty's high school selections.
9th Grade
Systematic Mathematics Algebra 2  (OOP) – The last year of our favorite video program which covers grades 6-9. After this, math will be outsourced for the rest of high school.
Language Arts 2 from Excelsior Classes – The sequel to last year's class. Again, I like the combination of R&S grammar, Latin/Greek stems, classic literature/poetry, and modern writing instruction. The once-weekly class is very manageable.
ACE Biology with supplements – I briefly looked around at current options for biology and didn't really see anything that topped our experience with ACE the last time around. Not to mention it is very affordable. And I like the video labs. I supplement this with Wes Olson's 101 videos and a few living books. (The Way Life Works and Exploring the World of Biology)
Notgrass Exploring World History – We still had these from Dusty. It is just a nice blend of text, choose-your-own-assignments that are quite creative, original sources, and supplemental literature.
Penny Candy Economics – This is a great program on economics geared for high schoolers from a libertarian, free-market perspective.
A second elective yet to be determined, possibly Agriscience.
The usual choir and handbell program has been cancelled for yet another semester. Hoping that will pick up soon. (ETA: They just announced a spring semester so all three kids will be in that!) We are in process of locating a piano teacher. We are signing all three kids up for a monthly art class, but that is all the extracurriculars for Duncan for the time being. (Thankfully, Pearl's Irish dance classes have continued.)
After experiencing the unique challenges of homeschooling a boy through high school, we decided to try something new this time around. We have hired a retired schoolteacher to come once a week to provide accountability and answer any questions our student might have. We tried to have Dad do it with Dusty last time, but The Man's day job is just too mentally demanding for him to stay on top of schooling. I selected the curriculum for Duncan and provided him with a planner. The tutor worries about everything else! So far, it has been wonderful. I hope to post more as a report at the end of the year.
Are you doing anything different this year?