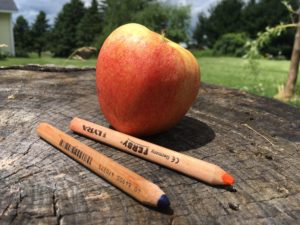 This post is for those who want to start homeschooling for the first time! Where do you begin? What do you need to know? A simple Google search will lead you into an overwhelming flood of information. When I am venturing into a new world I like to have one place that I trust for information until I can get my feet wet. Here is my advice for prospective (K-8)  homeschoolers from my little place on the net. (If you are beginning with a high-schooler, I recommend searching out a resource that specializes in homeschooling teens.)
First, make sure you and your spouse are on the same page re: your children's schooling
Homeschooling is a significant commitment and you will need the full support of your mate in this undertaking. If one of you is on the fence, consider a one-semester trial period. Homeschooling is a wonderful option, but it is not for everyone.
Become familiar with your state's homeschooling laws
These should be easy to find with an internet search. Thanks to homeschoolers who have gone ahead, homeschooling is legal and very doable in all 50 states.
Before you touch a schoolbook, work on your "scaffolding."
I was recently reading through an online discussion on organizational tips for homeschooling. At least half of the tips had more to do with running the household smoothly than with schooling. HS veterans have learned that an organized, well-run home is vital to the success of their homeschool.
So first, work on your household. It does not need to be immaculate, but it will greatly help to be basically organized. If you have been aspiring to a big purge, this would be a good time to do it.
Next, get a good routine or flow to your day. You don't need it scheduled out to the minute, but basic expectations for rising, meals, chores, free time, and bedtime will get everyone on the same page and help you stay on top of things. Get easy meals and laundry routines down pat. Homeschooling is an entirely new lifestyle, and you will find that just having a few extra bodies around during the day will bring more work before you even get to the schooling.
Finally, work on your relationships with your children. If you consistently relate to them with frustration or impatience, or they relate to you with defiance or drama, your homeschool will go nowhere, and it will be a pain to everyone involved.
Building this foundation for a homeschool will take time, at least a few months. But it will be time well spent!
Decide where you will school in your home
This is not as big a deal as you might think. You do NOT need a dedicated schoolroom. What you do need is some storage space for materials, and a writing surface such as a desk or table. Lots of HSers do just fine at the kitchen table. They use bookshelves, secretaries, hutches, or cubbies with bins to store their materials.
Many HSers have found that a formal dining room makes a perfect schoolroom. They usually are a good size, with natural light, near the hub of the home (i.e., Mom), and already contain a table.
Those who have made schoolrooms in bedrooms, basements, or bonus rooms often find that they do not use them very much as both Mom and kids want to be in the main area of the home. Older students may want a quiet place to concentrate occasionally, such as a desk in their room or an office. But younger ones like to spread out on a table. Presentation boards can be used for privacy with multiple students. Some families give each student a bin or a crate for their books, and then they can take them wherever in the house they like.
Gather materials
Again, this is not as much as you'd think.  Don't go out and buy everything off the school supply shelves. Start with just the basics and purchase more as needed.
This is what I consider the Basics:

scissors, tape, glue, a ruler, crayons or colored pencils, a set of watercolors, pens or pencils, paper – construction, white, and lined, a lap-sized whiteboard, with marker and eraser, wall maps OR an atlas OR a globe, and something to store work in – can be a binder or a file drawer/box (you will need a hole punch if you use binders).
As far as curriculum, I recommend starting only with the 3R's. Which means: a language arts program, a math program, and some books. You may be tempted by all the neat programs and opportunities available for homeschoolers, but I say stay away from them until you feel you have a good handle on your day. Then add other subjects/programs in slowly, one at a time. Do not worry about various methods and philosophies at this point. You will be much better equipped to evaluate these with a year of schooling under your belt. Homeschooling is really a learn-by-doing activity. Every family has unique dynamics.
Another benefit of the 3R's is that you won't need a planning system right off the bat. These curricula are usually lesson-based; you just do the next thing.
Language Arts – find an all-in-one, easy to use program. Many LA are divided up into various books or components. You can branch off into these as you become more confident and experienced.
Math – Again, find an easy-to-use program. If one requires separate support or supplementary materials, look elsewhere.
Books – Until you build up your own collection, make friends with your public library. I often use homeschool catalogs as booklists, but many lists can be found online as well. If your children are reluctant readers, the best thing you can do is take away the screens. I personally would not want to homeschool in a home where screens are in competition with books. They will win every time.
As far as computers, I would say these are not necessary until middle school.
You do not need curriculum at all for kindergarten or preschool. Google for free ideas.
What about video or online curriculum?
There has been an explosion of multi-media curriculum options in recent years. While they can be a life-saver for some situations, I do not recommend them as a first resort for elementary students.  Many studies have shown the negative effects that screens have on the eyes, brain, and attention abilities of children. My feeling is that the positives of multi-media are cancelled out by the negatives. We use a video curriculum only for foreign language in the elementary level. For middle and high school, we use more but we still make sure the students are not looking at screens all day long.
What about co-ops?
I do not recommend them for your first year, or at least your first semester. If you try them in the future, do not over-commit until you can evaluate if they are a blessing or a burden to your family.
What about children with learning challenges?
I would still follow the recommendations laid out in this post. Then continue your research with the many excellent resources out there.
Things to keep in mind as you begin:
*Keep the big picture in mind; why are you doing this?
*If pulling children from a brick-and-mortar school, consider a time of "deschooling." That is, give their minds a break from academics for a few weeks or a few months so that they can have a fresh start to this new approach to school. This is a good time to work on the scaffolding and maybe to start reading aloud.
*Children don't have to love everything about school. It is unfortunate that this expectation has become so prevalent among HSers. While we hope that our children will find joy in some parts of learning, other parts will require work. When HS parents are lead to believe that their kids should love school, they inevitably feel like failures when this does not occur.
*Celebrate little victories! Ice cream, a trip to the park, a little gift, can brighten the day and show that we value accomplishment in academics.
*Minimize distractions. Turn off the internet and the phone, if necessary. If you have toddlers, you may need to contain them in a separate room from your students when they are trying to concentrate. Learn to utilize naptime!
*Stay home. You cannot be going out every other day and expect to have a successful homeschool and that smoothly-running home. Children need routine and education needs consistency. Try not to go out more than once or twice during the schoolweek.
*Find someone experienced in HSing to chat with for encouragement and wisdom. Online forums are also a rich source of collective experience.
*Always have a time to read aloud.
RESOURCES
Purging/Decluttering: The Joy of Less  or for an abbreviated method, this post
Organization: Organizing From the Inside Out
Parent/Child Relationships: Calm Parenting
Easy-to-use Language Arts Curricula: Christian Light, Rod & Staff, Writing Skills
Easy-to-use Math Curricula: Christian Light, Rod & Staff, Developmental Math, Strayer-Upton