Life has been busy! Our house has sold and we are in the midst of packing.
In my previous post I shared a summary of what I've learned about taking care of skin, how I had to change my mindset, and the great results I got. Now some specifics. I should probably mention that I have middle-aged, combination-type, Caucasian skin.
Here are my core three products at the moment: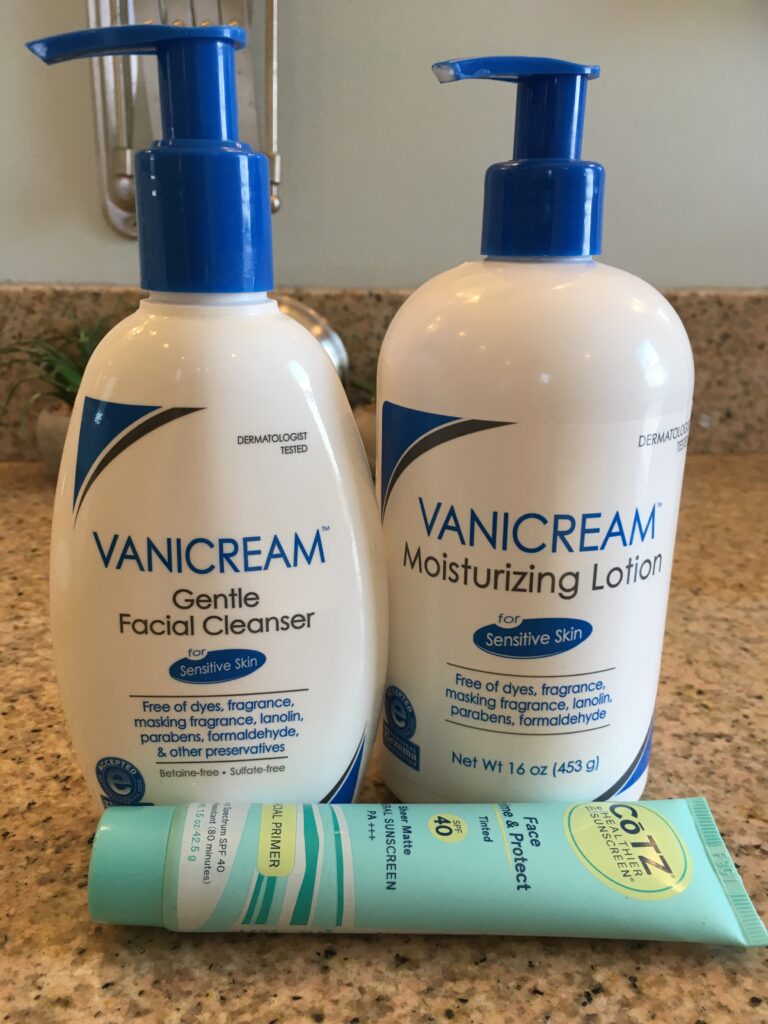 I decided to try Vanicream first as their ingredient lists are super-minimalist and they're also made in my region. They actually have two moisturizers, a richer cream and the lighter lotion pictured here. The cream made my skin like silk, but as we moved into the warmer months I switched to the lotion.
Cleansing – I sometimes also use a cleansing oil for makeup removal. I mentioned in my previous regimen a few years ago that I was doing oil cleansing to remove my makeup. I have since moved from oil cleansing to cleansing oil. There were three reasons: while I loved how soft and clear it made my skin, it also became quite shiny. I got concerned about wiping my eye area everyday to remove makeup. Lastly, the washcloths became a laundry hassle.
Cleansing oil has emulsifiers added to it so it can be rinsed off with water; no rubbing with a cloth needed. I am using the Hada Labo oil. I keep this by my sink. If I am removing makeup without showering, I use the cleansing oil, which works better on a dry face. If I'm showering I'll just cleanse my face while showering with the Vanicream facial cleanser. This does double-duty for both face and body. I love how soft and fresh and lightly foamy it is. It's nice for shaving and I don't miss scent at all. 
So I actually have two cleansers, but this setup is convenient and gives a little variety in my life! I also have the option of double-cleansing if I feel I need it. 
Moisturizing – I had to slow down and learn to do this after every shower (as well as after facial cleansing)! It is often recommended to apply moisturizer before even drying off but I find this cold and messy. I towel off lightly so that I'm still damp, but not dripping. Then I moisturize both face and body. One bottle. Easy peasy.  (ETA: I now have included a facial moisturizer by the sink for when I'm not showering. Not necessary, just convenient. Either Vanicream Facial Moisturizer [light] or Embryolisse [mid-weight].)
One more product I want to mention here! I discovered that Vanicream makes a couple deodorants, one of them aluminum-free. 
Sunscreen – I put this on as part of my makeup regimen. I use Cotz Prime and Protect which also doubles as my foundation.
For the rest of my makeup I use the Clinique line.
Here are some brands that go with the principles in my previous skincare post. There is no one-size-fits-all, so shop around and listen to your skin. There are some oil-free options among these brands if your skin is oilier. I'm sure I will get bored with my current products eventually and I'll be dabbling as well:
Affordable brands (FF = Fragrance Free): Vanicream, CeraVe, FF Aveeno, FF Neutrogena, FF Ponds Cold Cream, Albolene, Dove Sensitive, Vaseline Advanced Repair
Nicer brands: La Roche Posay, Paula's Choice, FF Avene, Clinique Dramatically Different cream or lotion, Embryolisse
Natural brands (these use occlusives other than mineral oil): Earth Science's Ceramedx, Cleure, Burt's Bees Sensitive, Weleda Sensitive Care
I mentioned Embryolisse in my previous post and it is an excellent moisturizer. The base is actually a cold cream (some people also use it as makeup remover) with just a few natural goodies. It has that short and sweet ingredient list and is available in a fragrance-free, oil-free version as well as the original cult classic which is mineral-oil-based. I personally make an exception for the fragranced original because it is light and elegant, and gentle enough to be popular for 70 years.
One more skin-improving hint I learned from my research that I'll stick in here: the single-bladed razor. You may have to journey over to the men's section to find these. I'm using Bic Sensitive and, uh, my legs have never looked better. Who on earth invented those gazillion-bladed razors?!
Have fun simplifying.