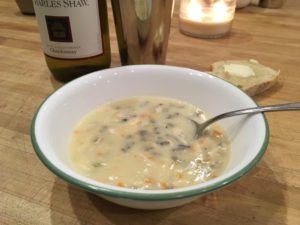 Here is a soup that is easy, elegant, and cozy all at once, and great for the holiday season.  (I really should have photographed it in something other than Corelle.) This is a regional dish here in our neck of the woods, and pretty much everyone likes it. You can make it from Chicken-in-a-Pot, or, if you are short on time, a rotisserie chicken and a couple boxes of broth from the grocery.
1 cup wild rice
1 onion, chopped
1 carrot, chopped
2 celery ribs, chopped
1 stick butter
1 cup flour
2 qts chicken broth
2 cups milk
salt & pepper to taste
4 cups diced cooked chicken
1 cup sliced fresh or canned mushrooms, optional
sliced almonds for garnish, optional
Simmer rice in 4 cups water for 30 minutes, then drain. Meanwhile, saute the vegetables in butter in a large, heavy pot until softened. Sprinkle in the flour and mix well. Cook, but do not brown. Slowly add the broth, stirring until the flour/butter/vegetable mixture is blended well and thickened. Stir in rice and milk, and season to taste. (A couple glugs of white wine might work well here too.) Add the chicken at the very last so it does not get tough. You can stir in the mushrooms if you like, however I either omit them or serve them on the side.
About 16 servings.