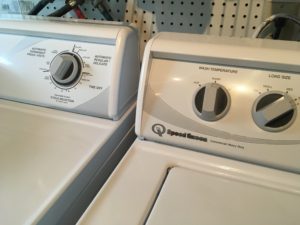 "And provides . . . a portion to her maidservants." Proverbs 31
Our appliances are our modern-day maidservants. It's worth it to have good ones that will serve you long and well. Here are three gals that keep our household running and whom I can recommend highly:
A Bosch dishwasher, entry level
After many years of many dishwashers, I finally got a Bosch a couple years ago. Let's just say I now know how a dishwasher is supposed to work. And this lovely lady is amazingly quiet. You don't need a million different cycles to get your dishes clean. I like to put my money toward quality rather than bells and whistles.
Speed Queen top-loading Washer (and Dryer), manual controls
(Make sure to read update below.)
When I did an extensive amount of washer research a few years ago, I found the Speed Queen name coming to the top over and over. And friends, I know they are not as sexy, but top-loading washers are the bomb. Get them while they are still legal. They hold huge loads, do not wrinkle your clothes, complete their cycles much more quickly, allow you to add laundry at any part of the cycle, do not require you to leave the door hanging open to avoid mold, and clean clothes SO MUCH BETTER. If you have one of those old tanks from the 70's, 80's, or 90's, hang onto them and fix them as long as you can!
For a new purchase, the Speed Queen is King. They are actually commercial-quality machines, made the same as the ones you would find in a hotel, dorm, or hospital. The big tubs are stainless steel. They are American-made. And to top it off, they are still available with simple manual controls. No computer panel to go out. (But if you like your buttons, they have those too.) Speed Queens rarely break and if they do, repair guys love them because they are easy to fix.
After two years, I'm still loving the Speed Queen.
*Update – As of 2018, Speed Queen has changed the construction of their washers and some reviewers say that it has lost a bit of its previously impressive cleaning power. I would recommend pre-2018 models if you can find one. For alternatives, look at the Maytag commercial top-loader or the Huebsch commercial top-loader.*
We have a relatively cheap stove, fridge, microwave, and stove hood, but the washer, dryer, and dishwasher make the world go 'round.