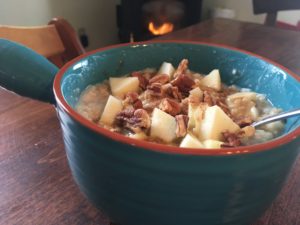 Crockpot oatmeal is one of the most important dishes in my recipe arsenal. It is super-easy and allows you to offer a hot breakfast to a group without any morning prep. I often serve it to overnight guests who need to leave early in the morning. Or at least, before I feel like getting moving.
Here it is:
1 cup steel-cut oats
to
4 cups water
Pour ingredients in crockpot, cover, and set on low overnight
You can add a sprinkle of salt and some cinnamon if you like, but it's not necessary. All it needs is a good stir before serving. I will set out brown sugar and butter for the morning, which I consider must-haves for oatmeal. Other good add-in's include:
Nuts
Dried fruit
Fresh fruit
Frozen berries
Jam
Chocolate chips and peanut butter
Milk or Cream
More cinnamon, or other autumn spices
Maple sugar/syrup, honey, or molasses
Make sure to use steel-cut (also called Irish or Scottish) oats, rather than rolled. We buy ours at Aldi. This recipe serves about five, and you can multiply it for bigger groups. It reheats well; you will just need to beat in a generous amount of milk to make it creamy again.
There is an old story that says an Englishman once taunted a Scotsman for eating oats, something that only horses would do in England. To this, the Scot replied, "And where can you find better horses . . . or better men?"