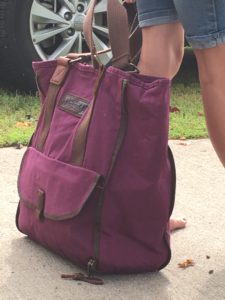 Every woman needs a tote bag, right? And we all have ideas of what a tote should be. One sees everything from posh designer leather to plastic grocery bags being used as totes. (Don't be too quick to discount the grocery bags. There really is nothing better for putting wet or poopy clothes into.)
I have been through a fair number of bags myself. There was the L.L.Bean canvas tote, the hospital diaper bags, the Eddie Bauer backpack, the thin cloth freebies, and the flowery, overpriced MLM bags.
But I think I have finally found one that actually gives me joy. It is soft, tough, handsome, high quality, water-and-stain-resistant, versatile, the right size, and not too heavy. It has sufficient pockets (but not too many), including an outer smartphone pocket.
It is the Duluth Trading Oil Cloth Day Tote.
While it isn't cheap, it isn't outrageous either. These things last for years, and the cost-per-use will beat out many other bags. It comes in different colors, and if you really like the oilcloth, like I do, you will be happy to know it also comes in both smaller and larger styles. I like that I don't have to guard this bag from the kids. I keep a few other big, cheap, nylon totes on hand, but this is Mom's Special Tote Bag.
And if you're not familiar with Duluth Trading Co, look around their site. They have lots of quality stuff. You may find some things for the men in your life. And their ads can be watched for free entertainment.